Srinagar, April 27, CNS: Indian Army's 10 Garhwal Maratha Infantry and 2 Sikhs in a pre-dawn swoop of Police Control Room (PCR) Srinagar on 28 April 1993, after breaking outer wall of the Control Room with the help of armoured cars disarmed 1500 Jammu Kashmir Armed Police personnel who had revolted against Government after the killing of their colleague constable Reyaz Ahmed.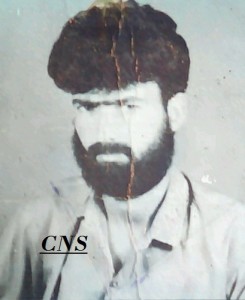 Constable Reyaz Ahmed Ganaie son of Sanuallha Ganaie, a resident of Dumpora Inderkoot Sumbal area of North Kashmir's Bandipora district was then 24 years old when according to his family members he was shot dead by Army personnel at Hazratbal Dargah. "My brother Reyaz (11th Battalion JKAP) posted at Hazratbal Shrine had gone to Ganderbal Treasury to draw his salary on that fateful day of 21 April 1993. As he returned back to Hazratbal, militants attacked an Army party and in retaliation Army killed at least six civilians including Reyaz," Saifuddin, the brother of slain police constable told CNS pointing towards the Police Belt that still hangs in his room at Inderkoot.
 The killing of constable Reyaz sparked off the agitation in the police department which took the government in surprise and the agitating cops increased the pressure on government by coming out on streets of Srinagar city brandishing their service weapons.  The then Director General of Police B.S.Bedi who was out on leave in his home state U.P was called back in a special plane and asked to negotiate with the leaders of the police coordination committee.
     The protesting cops continued to hit roads demanding registration of FIR against the guilty Army personnel. For over a week on daily basis they staged anti-Army protests and even marched towards  Sonwar based United Nations Military Observer Group in India and Pakistan (UNMOGIP) office and presented a memorandum there that was received Major Choruk of Sweden and Nelson of Norway.
The rebellion cops who were in mood to relent took refuge in Police Control Room Srinagar. A retired police officer wishing not to be named told CNS that when negotiations failed, the army and paramilitary forces began Operation Police Control Room (Operation Disarm) at 4 a.m. on April 28,1993 using two armoured personnel carriers to break the outer wall and storm the police headquarters in Srinagar. It was over at 4.30 a.m.
There was no resistance from the 1,000-odd personnel of the Jammu and Kashmir Armed Police inside, who in a revolt, had taken over the compound. There were no casualties. The army, led by Brigadier K. Pandya, had expected between 50 and 100 casualties because the policemen had dismissed all appeals to surrender, shouting defiantly that they were not traitors and would not come out.
Then State Police Chief B.S.Bedi said later: "It was a clean operation. I was forced to take action against my boys."
Back in Inderkoot, the family of Reyaz alleged that government did not provide employment to any of the family members of the slain constable as was promised by the then governor administration. "After 12 years, an ex-gratia relief of Rs 1.25 lakh was given to us by the then Chief Minister Mufti Muhamamd Sayeed," said Saifuddin.


    "That time authorities had assured that a CBI inquiry will be ordered to ascertain the facts related to the death of my son. An FIR was lodged in police station but no inquiry was conducted and no punishment was given to the killers," octogenarian mother Mehtab Begum said. (CNS)