Log-bridge consumed five lives but couldn't shake conscience of government: Locals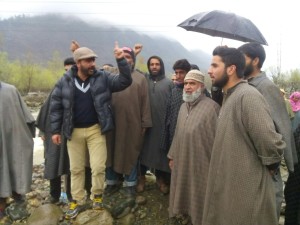 Waheed Bhat
Bandipora, March 14: A day after 6-year old boy Faizan Iqbal slipped to death while crossing a temporary log bridge over a local stream, residents of Arin and Bapora area in North Kashmir's Bandipora district staged protest demonstration against local administration for failing to construct bridge over the Stream.
The protesters allege that the bridge has taken 5 precious lives till now and the government has failed to construct a bridge over the stream so far despite assurances by the previous regimes. The residents blamed government for the deaths and said the incident was not just an accident but it is a murder by the negligence of the state government.
Locals alleged that they have many times approached local administration for construction of footbridge over the river, but their pleas go unheard. "Time and again we have appraised the administration about the matter but their repeated assurances proved to be hoax," said Mohammad Subhan a local resident.
The bridge connecting Arin with Bapora and Shokbaba villages made by placing a tree across the stream is dangerous and during rains it is more dangerous as the tree log is wet. During rains Faizan was trying to cross the bridge and slipped to death.
The protesters demand immediate construction of the footbridge so that the future accidents could be averted.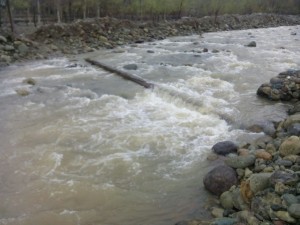 The local blamed government of not taking their grievances seriously. Sarpanch of the village Ghulam Mohi-ud-Din said he has placed written complaints before local administration many times for constructing of footbridge but nothing has happened till date despite so many accidents.
The protesters appealed Governor and Divisional Commissioner to interfere in the matter, so that their inconvenience will get solved.
Deputy Commissioner Bandipora, Sajjad Hussain Ganie acknowledged that the R&B department till date has not been able to submit any DPR regarding the construction of any foot bridge. He said he will write it to concerned authorities to make a proposal for construction of Foot Bridge.