Locals allege road widening causes soil erosion.
Waheed Bhat
Bandipora, March 14: Scores of residents of Yali-Pathkoot area of Bandipora district on Monday staged protest against Beacon Authorities.
The protesters allege that Border Roads Organisation (BRO) has started widening of roads in this rainy season leading to soil erosion at many places in the village endangering their lives and property as well.
The residents blocked Bandipora-Gurez road and staged protest which disrupted the traffic movement on the road for several hours.
At least 200 families of Pathkoot Yali, some 16 km from main town Bandipora say that they have been forced to migrate to other locations after cracks developed in their houses after BRO started widening of the road.
"My House has developed many cracks after BRO used heavy machinery for road widening forcing them to vacate the house," said Farooq Ahmad Khan Gojer
Fearing collapse of houses, he said he was forced to evacuate during night and stay with relatives.
Following the incident Tehsildar Bandipora Dr.Murtaza Rashid and OC Beacon, Vinket Singh visited the spot in which the OC Beacon take responsibility that it has caused due to road widening and assured that they will give compensation to the sufferers.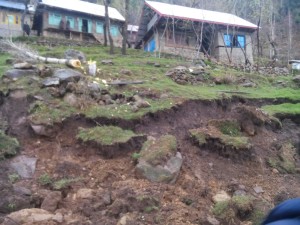 Tehsildar Bandipora on the occasion also provided immediate relief to the displaced families from Red Cross fund and assured that every possible help. Protesters dispersed peacefully after assurances from the government.