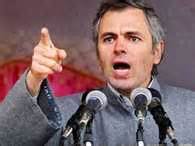 Srinagar | Feb 24 : National Conference working president Omar Abdullah on Wednesday said Delhi had dishonoured the terms and conditions of the State's accession to the Union of India and termed the erosion of the State's Autonomy as a breach of faith that has manifested itself as political turmoil and instability in the State.
Speaking at the commemorative function held at NC Headquarters in Srinagar on the occasion of Veteran NC Leader Sheikh Nazir Ahmed's first death anniversary, Omar Abdullah said New Delhi will have to honour all the terms and conditions of the accession and reverse the erosions in the State's Autonomy to restore a sense of faith and trust among the people of the State.
"While Delhi expected the people of J&K to honour the State's accession to India, it left no stone unturned to violate the terms and conditions of the same accession. Systematic erosions were engineering by Delhi to rob the State of its Autonomy and this has created a sense of deep mistrust. While one side is expected to honour the agreement, the other side cannot dishonor the agreement. National Conference has never abandoned its political struggle for the restoration of Autonomy and we will continue to strive for this just demand. Unlike others, National Conference doesn't believe in rank political expediency at the cost of our ideology and principles. Our flag is our pride. It represents all three regions of the State and we will protect our flag with our blood", he said.
The former chief minister highlighted late Sheikh Nazir Ahmed's legacy and steadfastness in upholding his principles till his last breath and said the vacuum created by Nazir Sahab's demise could never be filled.
"Nazir Sahab worked for the party without ever aspiring to attain a position of power. He served the party with his heart and soul while refusing to compromise on his own principled stand and never contested an election. Nazir Sahab's deeds matched his word. His refusal to hold an Indian Passport was a matter of his own personal conviction that makes him stand head and shoulders above those leaders who profess secession but bend the rules for their own selves for matters of convenience. While on might have disagreed with Nazir Sahab, one cannot deny his integrity, honesty and conviction" he said.
Lashing out at PDP, Omar said Mehbooba Mufti's statement that she was neither capable nor prepared to take on the responsibility of leading the State was factually correct. "Mehbooba Mufti is right. She is neither capable nor prepared to do justice with this responsibility. That said, what is this prolonged delay about then? While PDP and BJP continue to profess their unquestionable allegiance to each other and have adequate numbers, their refusal to form the Government is strange," he said, adding, PDP leaders have publicly declared that the "Agenda of the Alliance' is a 'sacred document' for them.
"Sadly, it's evident that they are completely ignorant about the meaning and connotations of the word 'sacred'. On one hand they led the people of the State to believe that PDP had sought CBMs from the Central Government as a prerequisite to Government formation and now senior PDP Leader Muzaffar Hussain Baig has come out to admit that the party has not sought any Confidence Building Measures from the Central Government. Now PDP has publicly admitted that their relationship with BJP continues on the existing arrangement and no fresh demands have been put forth. This is the nature of deception that is being peddled", Omar Abdullah added