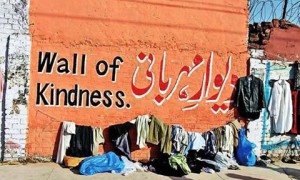 RAWALPINDI: On a chilly evening in the garrison city, a disabled man in rags checks the clothes hanging on a roadside and moves away. A youngster, who has been watching the disabled man from afar, approaches him and asks if he needs something. He says nothing, but looks at the warm clothes on the wall, selects one and leaves.
A few minutes later, another man walks near the wall and fancies a sweater hanging there. He picks it, pulls it on and is on his way.
This is the Deewar-i-Meharbani, or wall of kindness, in Rawalpindi, where the more privileged are encouraged to come and donate clothes and shoes for the homeless and impoverished.
The wall, which is in fact the boundary of the Government Degree College in Satellite Town, has the words 'Wall of Kindness' emblazoned in English and Urdu. The orange colour scheme almost guarantees that passers-by will stop and take notice.
The idea started from the Iranian city Mash'had, and over the months, such walls have proliferated in different cities of Pakistan. The first such wall was introduced in Peshawar and then other cities followed suit.
---
Founder of Rawalpindi's 'Wall of Kindness' hopes that citizens will help keep the initiative alive
---
The Rawalpindi wall is located at the Siddiqui Chowk on Saidpur Road and was brainchild of Asad Chaudhry, a 21-year-old Computer Science graduate from FAST.
"It all started through social media; I saw a news report on the Iranian wall of kindness and thought, why not here?" Mr Chaudhry told Dawn. "I visited different areas of Rawalpindi and finally decided that this place was ideal," he says, gesturing to the wall.
It wasn't easy, though. "I had to take permission from the college administration and shared the idea of the charity work with them by showing photographs, which they liked very much."
Mr Chaudhry said that initially, he had asked friends and family to contribute items. But when the idea went viral on social media, donations started pouring in on their own. "I initially bought shirts and clothes and asked all my friends to help out so we could make ordinary people aware of this trend. Now, I get messages from people on a daily basis asking about the donations they have left at the wall."
According to Asad, around ten to fifteen clothes and shoes are left here every day and nearly all of them get picked up by deserving individuals.
Azhar Hussain, a dholwallah who sits near the wall with his other co-workers, told Dawn the wall "is a great idea".
"Those who need clothes can them pick from here and those who are wealthy enough can donate."
"We regularly see people coming in cars and leaving clothes here. Just yesterday, a woman came here to hang clothes on her own."
"Many people are shy about picking clothes from the wall and sometimes I have to talk to them and tell them that it is alright," he says.
Rizwan Basharat, who lives nearby, has been snapping photos of the wall. "This country needs many such walls. I am happy that Rawalpindi has one too," he said, adding that he would share the images on social media.
"Social media has played a major role in spreading the message; it would be nice to see more people step forward and introduce such initiatives in different areas," he said.
Though many are sceptical about the initiative and think it won't last, Asad Chaudhry is hopeful. "This wall doesn't belong to me, this is a wall of kindness and it belongs to the people of Rawalpindi. I have been investing my time in it and I hope that the people of the city will not let it die," he concludes.
Published in Dawn, February 23rd, 2016