Would continue struggle for resolution of political, economic problems confronting JK: Mehbooba
Compliments party cadres for effectively carrying forward Mufti Mohammad Sayeed's pro-people agenda
Srinagar, February 21: Peoples Democratic Party (PDP) today resolved to carry forward the mission and vision of Mufti Mohammad Sayeed of ushering Jammu and Kashmir into an era of peace, stability and prosperity.
"Our party has established clear political priorities and we would continue our struggle to seek resolution of the multiple problems faced by Jammu and Kashmir on political, economic, administrative and financial fronts," PDP President and Member Parliament, Ms Mehbooba Mufti said while addressing an impressive gathering at the launch of the party's membership drive here today.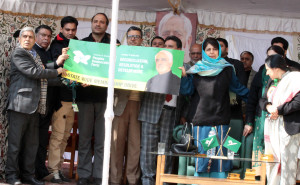 Ms Mehbooba said PDP set forth on an affirmative journey in 1999 under the visionary leadership of Mufti Mohammad to change the course of Jammu and Kashmir for better. "The party established clear political priorities for itself and focused on them relentlessly to pull the State out of the morass of instabilities and uncertainties plaguing it for the past more than six decades," she said and added that with the unflinching support of the people PDP has emerged as a premier regional political force within a short span of 16 years.
Ms Mehbooba complimented PDP cadres for effectively carrying the party's pro-people agenda to the grassroots and working tirelessly towards implementation of Mufti Mohammad Sayeed's political, economic and developmental vision for Jammu and Kashmir.
"During his more than six decades long political career Mufti Sahab most of the time went against the tide as his decisions were driven by people's interests and not by any desire for power," she said and added that fortunately his steadfastness and his political conviction proved Mufti Sahab right in almost every decision he took at the most difficult times.
Ms Mehbooba said even during his brief stints in power in the State during 2002-2005 and 2015, Mufti Sahab tirelessly continued his struggle to do away with the environment of mistrust and animosity within the State and the region and facilitate a refreshing scenario of peace and reconciliation. "It was because of the slew of intra-state and inter-state confidence building measures including revocation of POTA, opening of cross-LoC roads and reconstruction of infrastructure in J&K initiated by the Central and the State Government in 2003 that peace and prosperity had started taking roots Kashmir had, after decades of turmoil," she said and added that unfortunately due to lack of political will and resolve to carry forward the confidence building process after Mufti Sahab demitted office in 2005, Kashmir slowly started slipping back into an era of uncertainty with mounting cynicism and alienation.
Ms Mehbooba said after 2014 assembly elections, Mufti Sahab again took an atypical decision of aligning with BJP as he knew Prime Minister, Mr Narendra Modi has a decisive mandate at his back and he can revive the peace and reconciliation process in the State and the region. "My father was ready for electoral loss but wanted to take the people of the state out of this uncertainty. He
was of the belief that Mr Narendra Modi with such a huge mandate can take the state out of its troubles if he is able to convince him about the need for India-Pakistan friendship and resolution of outstanding issues," she said and added by visiting Lahore in December last on an unscheduled visit, the Prime Minister had shown that he wants to revive the peace and reconciliation process in the region. "The tragic attack on an air force base in Pathankot area of Punjab seems to have proved a spanner in the renewed peace efforts," she said and expressed the hope that peace efforts between New Delhi and Islamabad would continue as it is the people of Jammu and Kashmir who have and continue to suffer the most because of the hostility in the region.
Ms Mehbooba said it was firm belief of Mufti Sahab that the resolution of the problems of Jammu and Kashmir is possible only in the paradigm of cordial ties between India and Pakistan. He tirelessly worked towards realizing this objective and used to repeatedly reiterate the inevitability of maintaining peace along the borders and expanding the scope and sphere of cross-LoC movement of people and trade. "On the internal front Mufti Mohammad Sayeed was a strong votary of espousing the constitutional methods of finding resolution to the political problem and the issues confronting Jammu and Kashmir and safeguarding the State's distinct identity and the special status," she said.
Ms Mehbooba said PDP is today again at the crossroads of chalking out the future course of action and the party will take a decision which is in the interest of the people and the State. "We would continue to work towards accomplishing the vision of Mufti Mohammad Sayeed to create a space of dignity, opportunity and prosperity for the people of Jammu & Kashmir," she said and added that both in 2002 and 2015, PDP's power sharing arrangement either with Congress or with BJP took time and effort to materialize as the party wanted to ensure adequate safeguards for the State's dignity and interests of its people.
She said the party has decided to launch the membership drive from Srinagar as Mufti Sahab always wanted to restore the historic glory of this city. "We are making a new beginning from this city which Mufti Sahab visited the last as Chief Minister," she said.
PDP General Secretaries Nizam-ud-Din Bhat and Rafi Ahmad Mir, PDP District President Srinagar, Mohammad Khurshid Alam, Legislators, Syed Mohammad Altaf Bukhari, Muhammad Ashraf Mir, Asiea Naqash, Anjum Fazili and Noor Mohammad, PDP District Coordinator, Abdul Hameed Kohsheen, PDP Youth Wing President, Waheed-ur-Rehman Parra, Muddasir Amin and all zonal presidents of district Srinagar were present on the occasion.