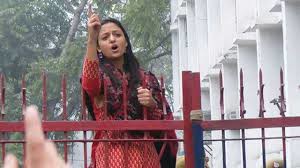 New Delhi, Feb 20, CNS:  JNU Students Union Vice President Shehla Rashid Saturday said that both BJP and RSS have been suffering from Islamic and Kashmir phobia. "These parties continue to harp Kashmir is an integral part of India while the same parties leave no stone unturned in muzzling the voice of Muslims and Kashmiri students especially," she said.
    "The tweets of Ashok Pandit are an eye-opener and they exposed him and the people having the mindset like him. His tweets don't deserve a reaction as they are only laughable," Shehla told CNS adding that random raids on rental houses of Kashmiri students and their harassment in New Delhi and other parts of India is very unfortunate.
    She said media trial is the source of student's sufferings. "In fact we are contemplating to lodge a case against a media house (Zee News) for intentionally surcharging the atmosphere inside JNU. We want to know about the motive of that media house and why they propagate and feed wrong information to the people of India. Even the doctored videos were aired on media channels to defame a section of students," she said.
    "Whatever happened in JNU was the handiwork of people who have been suffering from Kashmir and Islamic phobia. These so-called nationalists think they are the only patriots existing in this country," she said. (CNS)