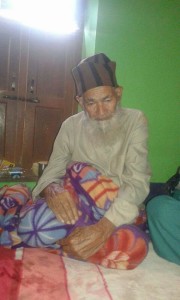 January 9, 2016: Senior leader of Peoples Democratic Party and Member Legislative Assembly Darhal Budhal Chowdhary Zulfkar Ali has condoled the sad demise of great religious leader of Budhal Baji Ahmed Din and expressed sympathies with the bereaved family.
In a statement issued here Zulfkar paid glowing tributes to the departed soul and expressed shock over the demise of this religious personality of the area. Baji Ahmed Din of Soda Paani Tralla Kotranka died on intervening night of Friday and Saturday in his village.
Zulfkar said that Baji Sahib was most gentle and great religious personality of the area who always worked for the betterment of society. He said that Baji Sahib has contributed his lot for spritual treatment of many people and was a known revered personality of the area who always taught the people to walk on right path of life.
Terming his demise as great loss to the area, Zulfkar said that such figures were considered as torch bearer in the society whose demise has created big gap in the society which can never be fulfilled. He said that teaching and contribution of Baji sahib towards society will always be remembered.
He prayed for peace to the departed soul and expressed condolence with the family members. He prayed for giving patience to the family to bear this great loss.