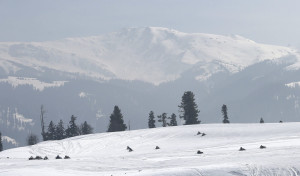 Srinagar, Jan 1: Famous Grand Mumtaz Resorts attracted huge crowd on the eve of New Year- 2016 celebrations at Gulmarg on Thursday.
Grand Mumtaz hotel which remained fully booked with domestic and foreigners wore festive look and remained abuzz with local tourists turning up to the venue to celebrate New Year.
On the occasion Hotel management had offered Gala dinner for in-house guests and other tourists on special rates.
Grand Mumtaz Resorts also offered special discounts on double bed room accommodations for the guests.
Hundreds of tourists joined live music Show which started on Thursday evening and when the clock struck 12 o'clock, fire-cracker were burst near the hotel.
General Manager, Grand Mumtaz Resorts Gulmarg Mohsin Bhat said that hotel remained abuzz with the tourists and was fully sold ahead of the New Year festival.
He said that tourist response was satisfactory as compared to the previous years.
"Not only domestic tourists but also foreigners too had booked the accommodations in advance to celebrate the New Year – 2016 at Grand Mumtaz," said Mohsin Bhat.
He said that besides special offers on room accommodation Grand Mumtaz had also offered special discounts on the dinner to the tourists.
On the occasion a lucky draw was held at 12 o'clock and winner of the draw was gifted a "one night stay" at hotel Grand Mumtaz Resorts in Pahalgam.
Grand Mumtaz is one of the premium hotels of Mushtaq Group of Hotels offering best services in the industry.
The hotel property has experienced staff and chefs who makes the stay more comfortable for tourists.
"I really feel elated to have chosen this property in Gulmarg on this New Year occasion. Kashmir which is known for hospitality was reflected in the services offered by this property," said a tourist from Mumbia.
Local tourists who had visited to celebrate New Year at Gulmarg expressed their satisfaction over the facilities provided by the hotel.