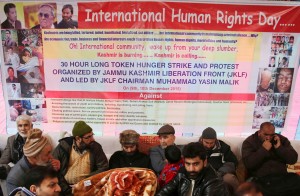 Double standard, hypocrisy of intl community on human rights abuses in Jammu Kashmir criminal: Malik
Srinagar, Dec 09 (KNS): 30 Hour long token protest hunger strike of JKLF led by chairman JKLF Muhammad Yasin Malik has started today with hundreds of people from all walks of life joining it throughout whole day. Among those who joined this protest hunger strike included the kith and kin of martyrs, lawyers, human rights activists, political leaders of various parties, renowned religious leaders, trade union leaders, intellectuals, students and others. Among those who were present or delivered speech on the occasion included the father of recently martyred youth Gowhar Nazir Dar of Zainakot, mother of martyr Suhail Ahmad Sofi of Narabal,  renowned legal expert Professor Noor Bilal, renowned educationist  Pandit Vishnu Gee, Professor Pir Wajahat  Ahmad, renowned  religious scholars Maulana Qazi Yasir, Maulana Khurshid Qanoongo, Maulana Shaukat Ahmad Keng, Moulana Riaz Ahmad Shah, Hurriyat leaders Shabir Ahmed Dar (Hurriyet Jk ), Hurriyat G leaders Ghulam Nabi sumji, Maulana Mohammad Abdullah tari, , Ghulam Mohammad Khan sopori, Naeem Ahmad Khan, Maulvi Bashir, Zamrooda Habib, Zafar Habib, Nisar Hussain Rather, Mohammad Yasin Atai, Imtiaz Ahmed Reshi, Syed Bashir Andrabi, Mohammad Ramzan Khan, Maulana Bashir Ahmad, etc, Hurriyat (M) leaders Ghulam Nabi Zaki, Mossadiq Adil, Mukhtar Ahmad waza, Mushtaq Ahmad sufi, Abdul Qadoos haji, Ghulam Hassan etc., JKLF (R) leaders Farooq Ahmed Dar (Bitta karate ), wajahat Qureshi etc, Salvation Movement chief  Zafar Akbar Butt, leading resistance leader Gen. Musa, head of the APDP Mtr. Parveena Ahangar, Hurriyat JK leaders Mir  Iqbal ,Mohammad Ahsan Untoo leading lawyers  Nazir Ahmed Runga, adv. Mir Shafqat Hussain, advocate Bashir sideeqi, Advocate Mohammad Ashraf.  Trade union leaders Bashir Ahmed Khan and Ghulam Mohammad Qadiri, business Community leaders Mohammad Yaseen Khan, Mohammad Sadiq baqal, Haji Din Mohammad Mattoo, Manzoor Ahmad Bhat, Abdul Majeed , Sajad Gul,  Mir Bashir Kenth and Farooq Ahmad Nawaz etc . People from all walks of life including women are continuously coming to participate in the protest. Meanwhile Yasin Malik while talking to media person early morning today said that today's protest hunger strike is being organized to lodge protest against gross human rights violations in Jammu Kashmir and continues criminal silence of world community and civil society on this,. He said that today whole world is watching that Kashmir is burning but nobody speaks because it may harm their trade and business interests with India.  He said that Kashmir is burning, but the international community and its  conscience is fast asleep and today we are here protesting against this criminal silence and double standards asleep and trade relations with India because of the large countries in the world that violence against humans are not open to the language. Chairman JKLF Muhammad Yasin Malik said that from a long time the basic human rights of Kashmris are being trampled by India and its stooges. More than hundred thousand of ours have been martyred by tyrant forces, thousands of our honorable mothers and sisters have been dishonored, thousands are missing in custody and thousands are sleeping in unmarked graves. Thousands have been disabled by torture, peppergas shells and pellet gun firings and the Careers of thousands are being destroyed in police stations and jails. Yasin Malik said that this oppression still continues and if we only analyze the ongoing year we find innocents like Suhail Ahmad Sofi of Narbal, Gowhar Nazir Dar of HMT to Khalid Ahmad Wani of Tral brutally killed by the trigger happy Indian forces. Similarly we find innocent Kashmiris like Zahid Rasool of Baiotangoo burnt to death by fascists backed by the present rulers. He said that during this present year, thousands of innocent young boys, children and students have been arrested, tortured and humiliated by police and forces and till date hundreds of young boys are languishing in police custody or have been sent to jail after slapping PSA on them. Even the kith and kin of these young boys are not spared and are also humiliated and tortured by police. Along with this, a complete blanket ban has been imposed on all peaceful political activities, processions and rallies and practically Kashmir has been turned into a concentration camp. Yasin Malik said that now even our religious belief and freedom is also being snatched and especially in Jammu RSS backed forces with the active support of present rulers has turned the lives of Jammu Muslims as hell. He said that fighting for ones rights is a sign of life and living nations and Kashmiris too being a living nation cannot remain silent on these atrocities. Yasin Malik said that whatever is happening in Jammu Kashmir is not unknown. International community knows and understands everything but is keeping criminally silent only because of its trade and economic ties with India. He said that international charter of human rights has been formulated by international community itself. International human rights day is also their creation but today people who made and have signed these covenants are adopting double standards and maintaining criminal silence when it comes to the abuse of human rights of tiny nations like Kashmir. He said that challenging this hypocrisy and double standard of international community and awakening its sleeping conscience is necessary and Kashmiris will keep fulfilling their obligations regarding this. It is worth to mention that many JKLF leaders were present in today's protest hunger strike including Front Vice Chairman Advocate Bashir Ahmad Bhat, Vice Chairman Shaukat Ahmed Bakshi, secretary General Ghulam Rasool Dar Edhi, Zonal President Noor Mohammad klual, Vice President Central Mir Sirajuddin, Zone Vice President Mohammad Mr. general secretary zone Sheikh Abdul Rashid , Zonal  Vice President Mohammad Siddique Shah, zonal organizer basher Ahmad Kashmiri, Ashraf bin Salam( zonal press in charge), leaders Mir Mohammad Zaman, Mushtaq Ahmad Khan, Sheikh Khalid Mubarak, Professor Javed ,  district presidents, Bashir ahmad Boya,  Javed Ahmed Butt, Syed Nisar Hussain, Gulzar Ahmed Pahalwan, Mohammad Rafique war, Mohammad Ishaq Ganaie, Abdul Rashid magloo, Abdul Sattar, Showkat Ahmad Dar etc.
Meanwhile today after Nimaz I Magrib, a Mashaal Jaloose (candle light) procession was taken out from Maqbool Manzil against oppression unleashed against people of Jammu Kashmir. People in large numbers participated in this procession and raised slogans against Indian atrocities and oppression.
It is worth to mention that this protest hunger strike will continue till after noon tomorrow.