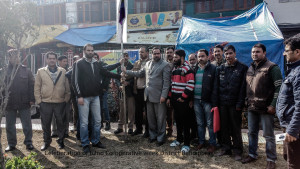 Kashmri Convener News
Bandipora November 19: The institutional and departmental employees  of cooperative societies  on Thursday observed a  62th cooperative week in Bandipora.
On the occasion Deputy Registrar Societies hoisted cooperative flag in Gulshan Chowk and also chaired a meeting with employees and discussed the new initiatives to be incorporated for the upliftment of cooperatives for public good.
The registrar Ashiq Ahmed threw light on the scope of cooperative movement in economic development of general public and how it helps in removal of the exploitation done by middle men.
He also said that it controls price and profit to boost employment.
The improvement in the net turnover of 576lacs as compared to previous seasons turnover of 277 lacs were also highlighted in the meeting. The members also stressed on the  'confidence building' in the institutions, so to face growing market pressure.
On the occasion Manager Bandipora co-operative bank Zahoor Ahmed Andrabi and other prominent members spoke about the functioning of co-operative institutions