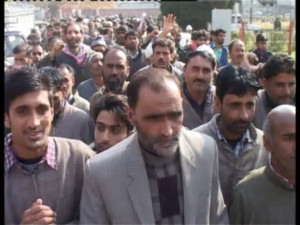 Bandipora, Nov 18, CNS:  Flood victims are still wandering from pillar to post to secure financial relief in a Constituency that is represented by a legislator from Opposition National Conference and Legislative Member from ruling People's Democratic Party.
    Hundreds of people from dozens of hamlets of Sonawari Constituency including Inderkoot, Shahgund, Rakhshilwat, Nowgam, Markundal, Khatpora, Asham, Baharabad, Mukhdamyari, Preng, Sadarkoot, Gulshanpora assembled outside SDM office Sumbal in North Kashmir's Bandipora district and staged a protest against the State Government. The protesters alleged that the incumbent MLA Muhammad Akbar Lone and MLC Yasir Reshi are indifferent towards their miseries and have miserably failed to solve their problems.
    "You will not believe that last time Rs 3800 flood relief cheques that we obtained from the government got bounced and we didn't get a single penny. When we approach the SDM office, the officials their direct us to either get a marked application from MLA or MLC and ironically both these so-called representatives of people refuse to meet us citing their busy schedule," the protesters told CNS.
   The protesters alleged that authorities did not carry the assessment fairly and even those who obtained cheques did not get cash. "Both MLA and MLC from Sonawari Constituency made false promises and avoided the people soon after the election was over," they said.
    Reports said that when the protesters headed by social activist Qaumdin Shilwati tried to present a memorandum to the SDM, the officials locked the office and fled from the spot.