About 20 percent of children with learning disabilities also have attentiondeficit/hyperactivity disorder (ADHD). Children with learning disabilities may become frustrated, lose interest in school and avoid challenges. They may have low self-esteem and emotional problems, such as withdrawal, anxiety, depression or aggression. It is also common for children with learning disabilities to have social problems. Children with undiagnosed learning disabilities can become angry and frustrated. These feelings may lead to emotional problems.
Risks factors
The most common risk factor is family history. Less common risk factors include poor nutrition, severe head injuries, child abuse and pregnancy-related factors. (National Centre for Learning Disabilities)Lead poisoning, infections of the central nervous system, or treatment for cancers, such as leukemia, can also increase the risk for learning disabilities.Environmental, cultural or economic disadvantages do not cause learning disabilities but may co-occur with learning disabilities.Similarly, behavioural disorders or emotional disturbances may also be present with learning disabilities.
Research shows that 8 to 10 percent of American children under 18 years of age have some type of learning disability. "The report of the National Right to Education (RTE) Forum Delhi and Society for Promotion of Area Resource Centres (SPARC), India shows that enrolment of disabled children in schools is less than 1 percent,".For someone diagnosed with a learning disability, it can seem scary at first. But a learning disability doesn't have anything to do with a person's intelligence — after all, successful people such as Walt Disney, Alexander Graham Bell, and Winston Churchill all had learning disabilities.Learning disabilities are problems that affect the brain's ability to receive process, analyse, or store information.These problems can make it difficult for children to learn as quickly as someone who isn't affected by learning disabilities.Learning disabilities (LD) are neurological disorders that can make it difficult to acquire certain academic and social skills. They are not the result of poor intelligence or laziness. Knowledge about learning disabilities (LD) will allow you and your child to advocate for success in learning and in life.School and learning disabilities: – Learning disabilities tend to be diagnosed when children reach school age. This is because school focuses on the very things that may be difficult for the child – reading, writing, math, listening, speaking, and reasoning. Teachers and parents notice that the child is not learning as expected. The school may ask to evaluate the child to see what is causing the problem. Parents can also ask for their child to be evaluated.It's important to remember that a child's learning disabilities may need help at home as well as in school.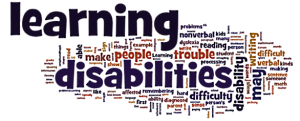 Treatment: – The most common treatment for learning disabilities is special education. Specially trained educators may perform a diagnostic educational evaluation assessing the child's academic and intellectual potential and level of academic performance. Once the evaluation is complete, the basic approach is to teach learning skills by building on the child's abilities and strengths while correcting and compensating for disabilities and weaknesses. Other professionals such as speech and language therapists also may be involved. Some medications may be effective in helping the child learn by enhancing attention and concentration. Psychological therapies may also be used. People with learning disabilities and disorders can learn strategies for coping with their disabilities. Getting help earlier increases the likelihood for success in school and later in life. If learning disabilities remain untreated, a child may begin to feel frustrated with schoolwork, which can lead to low self-esteem, depression, and other problems.Usually, experts work to help a child learn skills by building on the child's strengths and developing ways to compensate for the child's weaknesses. Interventions vary depending on the nature and extent of the disability.Parents and Schools Role: – Parents should formally request testing through their school system. Schools are required to evaluate a child (age 3 to 21) if he or she is suspected of having a disability that is affecting his or her learning or educational performance. This evaluation is provided free of charge to families and must, by law, involve more than one standardized test or procedure.It is important that school personnel, families and the family physician work together to establish the diagnosis and treatment plan for children with learning disabilities. The sooner learning disabilities are detected, the better, so the child can start receiving the educational help he or she needs.
Prognosis: – The 'prognosis' of Learning disabilities usually refers to the likely outcome of Learning disabilities. The prognosis of Learning disabilities may include the duration of Learning disabilities, chances of complications of Learning disabilities, probable outcomes, prospects for recovery, recovery period for Learning disabilities, survival rates, death rates, and other outcome possibilities in the overall prognosis of Learning disabilities. Naturally, such forecast issues are by their nature unpredictable.Learning disabilities can be lifelong conditions. In some people, several overlapping learning disabilities may be apparent. Other people may have a single, isolated learning problem that has little impact on their lives.
Author is M.Phil., Ph.D in applied Psychology and can be reached as lonebilal346@gmail.com